AZNotification
AZNotification is a custom control which allows the user to provide user interface notifications to the user. AZNotification is implemented for iOS 7 framework and utilizes the UIKit Dynamics to create the physics effects.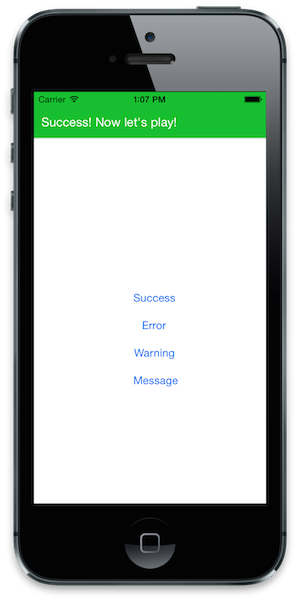 Requirements
This control requires at a minimum the iOS 7.0 SDK
Installation
Copy the contents of the "src" folder to your application.
Usage Example
[AZNotification showNotificationWithTitle:@"Success! Now let's play!" controller:self notificationType:AZNotificationTypeSuccess shouldShowNotificationUnderNavigationBar:YES];

[AZNotification showNotificationWithTitle:@"Error: WTF happened!" controller:self notificationType:AZNotificationTypeError];

[AZNotification showNotificationWithTitle:@"Oh BTW! Your hair is on fire!" controller:self notificationType:AZNotificationTypeWarning];

[AZNotification showNotificationWithTitle:@"There are no new messages!" controller:self notificationType:AZNotificationTypeMessage];